"All New" Building & Remodeling Materials HUGE 1-Day Auction
(25) New Kitchen Cabinet Sets, Lg. Qty. Flooring of All Types, Doors, Tools, Etc.
Broome County Fairgrounds, 2939 Route 11, Whitney Point, NY (I-81, Exit 8)
A SUPER – LARGE AUCTION OF ALL TYPES OF NEW HOME IMPROVEMENT ITEMS, BUILDING MATERIALS & TOOLS (25) Top Quality Complete New Kitchen Sets (Over 2,000 Sets Sold!!); NEW 6-8 PERSON FANCY HOT TUB W/ COVER; Sinks & Toilets; Bathroom Vanities; GRANITE KITCHEN COUNTERTOPS; ALL NEW FLOORING: Hardwood Flooring; Asst. Porcelain Tile; Lg. Consignment Of High Quality Laminate Flooring; Glass & Marble Tile: Many Fancy Ext. Doors; Many Int. Prehung Doors; NEW Generators; New 18' Equip. Trlr.; Vinyl Siding, Architectural Shingles; Lg. Qty. Dimensional Lumber; New Storage Building; Pressure Washers; Etc.; Etc.; A SUPER LARGE QUANTITY – BE SURE TO ATTEND FOR SOME GREAT DEALS!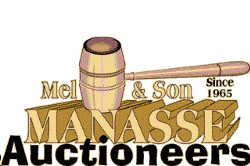 Auctioneers & Licensed Real Estate Brokers
Licensed Real Estate Brokers In NY & PA
Whitney Point, NY
(607) 692-4540 / 1-800-MANASSE
WWW.MANASSEAUCTIONS.COM