Multi-Parcel Absolute Real Estate Auction
18 Properties Including; Homes, Mobile Homes and Vacant Lots
Located In Broome, Tioga, Chenango & Delaware Counties
Sunday November 4, 2018 1:30PM
Auction For All Properties To Be Held At McGirk's Restaurant, 1 Kattellville Rd., Binghamton, NY;
18 Properties – Selling For One Owner
Parcel #1 – Sidney, NY - 2 New Street, 2-Sty. Sgl. Family Home, Rented, Town of Sidney, Tax Map #: 115.12-5-10, 70 x 49FF Lot [Open House]; Parcel #2 – Sidney, NY - 53 Cartwright Ave., 2-Sty. Sgl. Fam. Home, Rented, Town of Sidney, Tax Map #: 115.12-7-20, 65 x 118FF Lot [Open House]; Parcel #3 – Bainbridge NY - 138 Old Gifford Road, Mobile Home On Lot, Town of Bainbridge, Tax Map #: 266-1-40, .90 Acres, Lot Only, Mobile Home Not Included!; Parcel #4 – Afton, NY - Susq. River Landing, Vacant Lot, Town of Afton, Tax Map #: 289.15-1-29, 2 Acres - Behind McDowell & Walker; Parcel #5 – Afton, NY- 278 Goodnough Road, Lg. 2-Sty. Sgl Family Home On 11 Acre Lot, Rented, Town of Afton, Tax Map #: 283-1-16.1, 11.86 Acres [Open House]; Parcel #6 – Afton, NY - 102 Kirby Lane (Rt. 7), Town of Bainbridge, Tax Map #: 285-4-12.4, 150FF x 200Ft Lot, .71 Acres, Lot with Utilites with 2 Mobile Homes on Presently, Gray Mobile Home in Front Will Be Moved off Property Before Closing. Brown Mobile Home in Rear Belongs to Tenant and is Paying $275 Per Month Lot Rent. Parcel #7 – Afton, NY- State Highway 7 Rear, Town of Afton, Tax Map #: 285-1-12.7, 2.52 Acres; Selling Together With State Highway 7 Front, Mobile Home on Lot, Town of Afton, Tax Map# 285-1-12.6, 80FF, 2.6 Acres Total - Properties Selling Together, No Homes on These Parcels, Large Parcel Has Older Utilities; Parcel #8 – Sanford, NY- 1865 Route 41, Vacant & Wooded, Broome County, 8 Acres; Parcel #9 – Windsor, NY- 838 E. Windsor Rd, Town of Windsor, Tax Map #: 151.02-1-10, 65 x 200FF- Mobile Home on Lot; 834 E Windsor Road, Town of Windsor, Tax Map #: 151.02-1-9, .19 Acres; Parcel #10 – Windsor, NY- 386 Williams Road, Mobile Home on Lot, Town of Windsor, Tax Map #: 197.00-2-1, .37 Acres; Parcel #11 – Windsor, NY- 153 Riley Road, 3 Bedroom Double Wide Home on 5 Acre Lot, Currently Rented, Town of Windsor, Tax Map #: 147.04-1-25, 5.35 Acres; Parcel #12 – Harpursville, NY- 65 Gehr Road, Old Mobile Home on Lot w/ Utilities, Town of Colesville, Tax Map #: 083.13-1-20, .71 Acres; Parcel #13 – Chenango Forks/Triangle, NY- 313 South Street, 5.98 Acre Vacant Lot, Town of Barker, Tax Map #: 0043-1-3; Parcel #14 –Binghamton/Castle Creek, NY - 997 Dunham Hill Road, Town of Barker, Tax Map #: 054.00-1-16, 1.05 Acres, w/ Utilities, Mobile Home Belongs To Tenant, Selling Land Only; Parcel #16 – Vestal, NY - 321 Pierce Hill Rd., 2-Sty Sgl. Fam. Home, 3-4 Bedroom, In Great Location, Currently Rented, Town of Vestal, Tax Map #: 173.08-1-10, 1.04 Acre Lot – [Open House]; Parcel #17 – Owego /Newark Valley, NY- 2292-2324 Park Settlement Road, Town of Owego, Tax Map #: 85.00-1-3.122, 2-Sty. Sgl. Fam. Home, Sgl. Wide Mobile Home, Lg. Barn, 4.54 Acre Lot, Currently Rented; Parcel #18 – Owego/Candor, NY- 436 Anderson Hill, Ranch Style, 3BR, Single Family Home In Good Location, Currently Rented, Town of Candor - Close to Owego, Just Off Rt. 96, Tax Map# 84.00-1-32, 150 x 252 Lot [Open House]; Properties Sell Absolute, To The Highest Bidder(s) – Regardless Of Price!!; Sold As-IS, Where-IS, How – IS, No Warranties; Any Tests Wanted Or Needed Must Be Done Prior To Auction; Properties Sells With No Contingencies!;
Open Houses: Sunday, October 28, 2018;
12Noon-1PM: Parcel 5 - 278 Goodnough Rd, Afton;
2PM-3PM: Parcel 16 - 321 Pierce Hill Rd, Vestal;
3:30PM-4:30PM: Parcel 18 - 436 Anderson Hill Rd, Owego;
4PM-5PM: Parcel 1 - 2 New St, Sidney &
Parcel 2 - 53 Cartwright Ave, Sidney;
Terms of Auction: 10% Buyers Premium Charged On Final Bid Price, And Added To The Final Bid Price Which Makes The Total Purchase Price; On Parcels Selling Over $20,000, A 15% Down Payment Of The Total Purchase Price Due Day Of Auction; On Parcels Selling Less Than $19,999, A 20% Down Payment Of The Total Purchase Price Due Day Of Auction; Down Payments Due Day Of Auction By Cash Or Good Check At Signing Of Contract, At Conclusion Of Bidding; Balance Due On Closing in 30 Days –Sells with No Contingencies, Be Prepared;
Parcel #1 – Sidney, NY - 2 New Street, 2-Sty. Sgl. Family Home, Rented, Town of Sidney, Tax Map #: 115.12-5-10, 70 x 49FF Lot; Open House: Sun. 10/28/17 From 4PM-5PM;
Rent: $725.00, Renter Pays Own Utilities;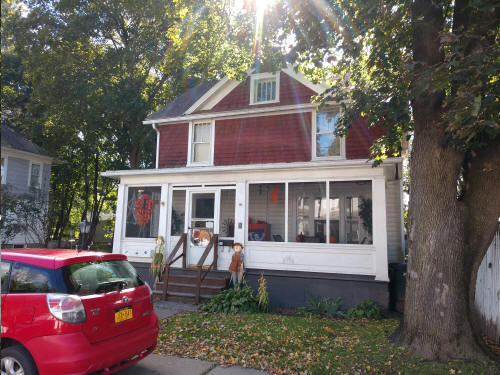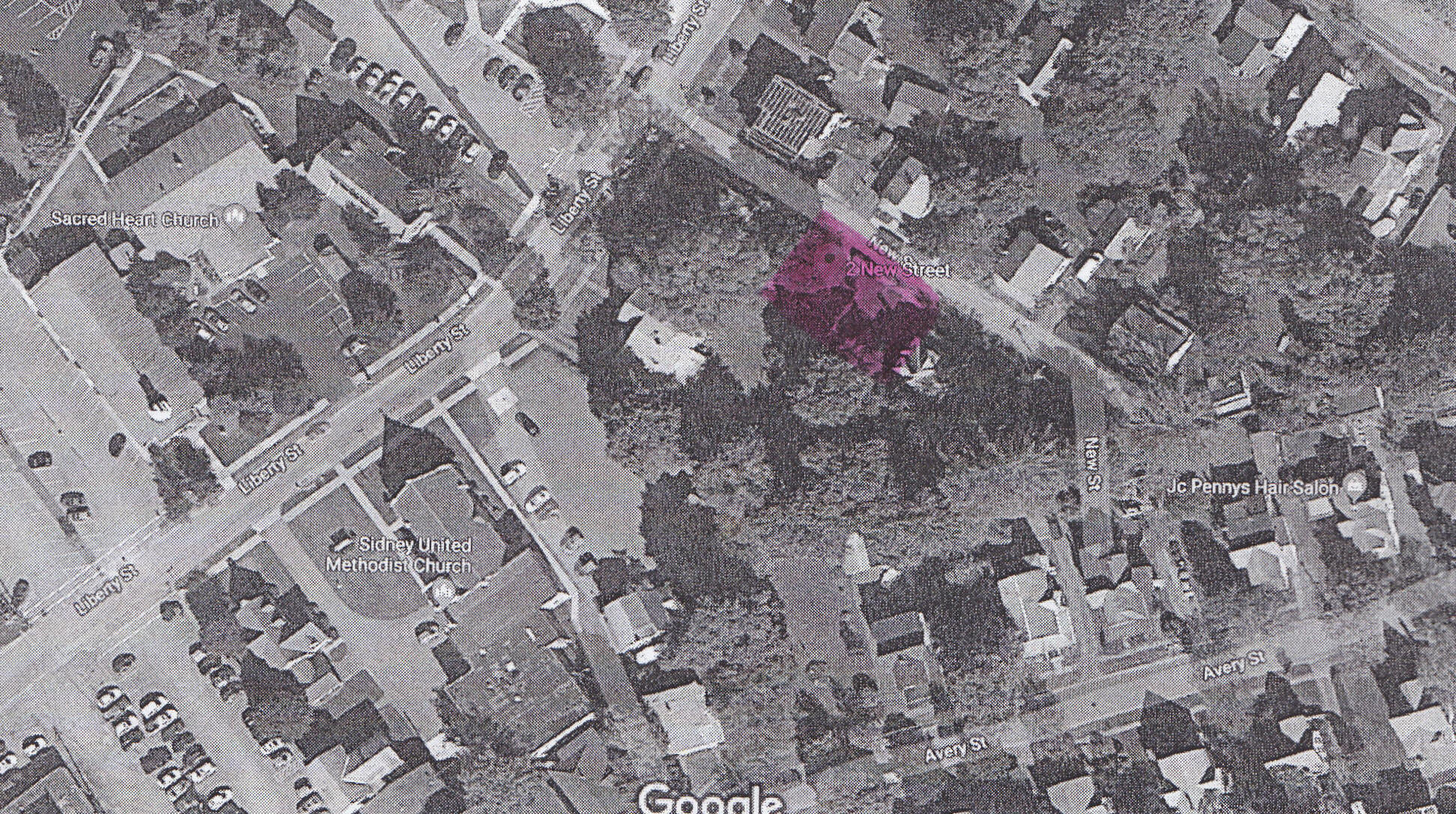 Parcel #2 – 53 Cartwright Ave, 2 sty Sgl. Fam. Home, Rented, Town of Sidney, Tax Map# 115.12-7-20, 65 x 118FF Lot.
Open House: Sun. 10/28/17 From 4PM-5PM;
Rent: $675.00, Renter Pays Own Utilities.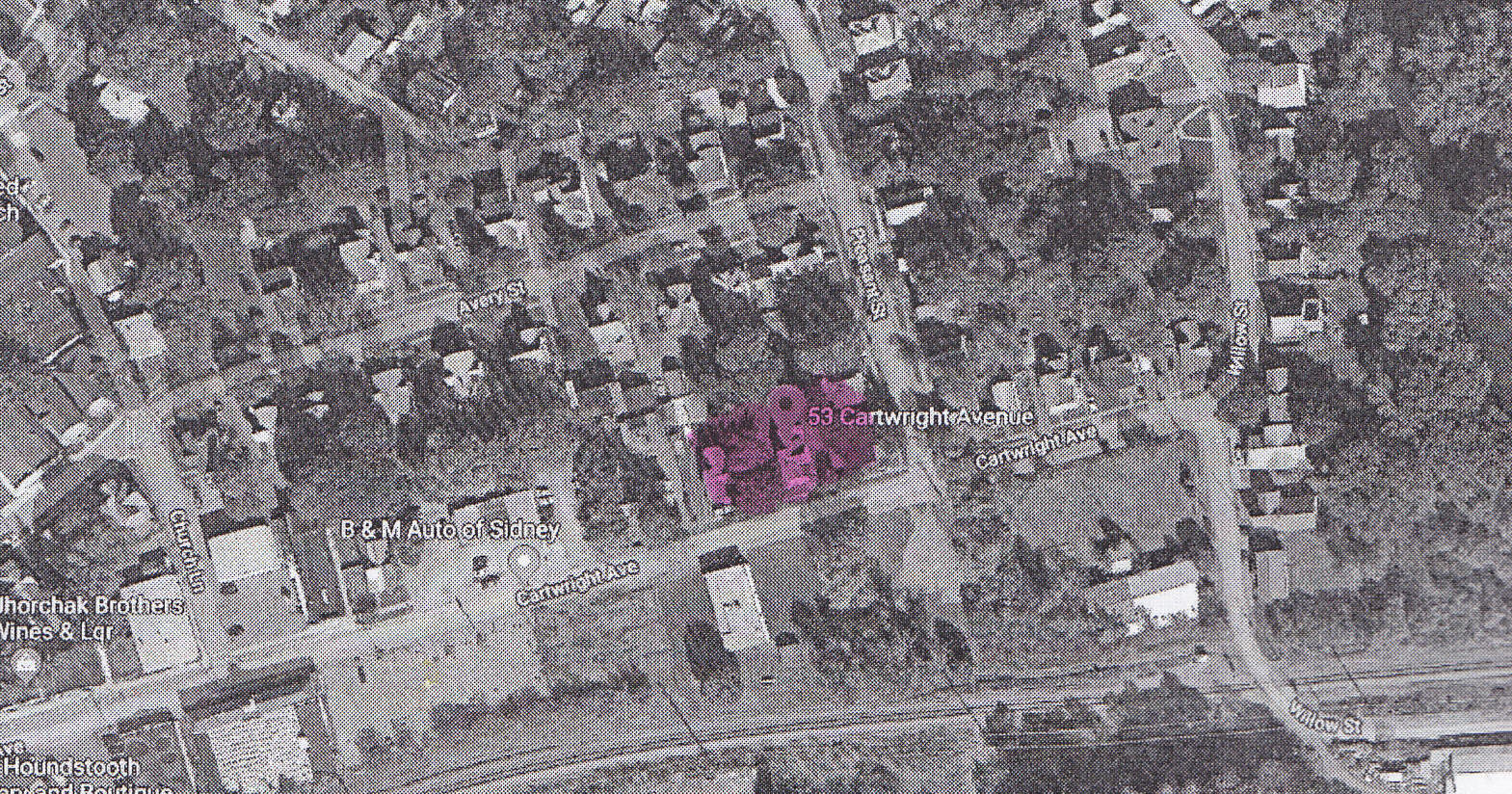 Parcel #3 – 138 Old Gifford Road, Mobile Home On Lot, Town of Bainbridge, Tax Map# 266-1-40, .90 Acres.
Lot Only, Mobile Home Not Included!; LOT RENT: $325.00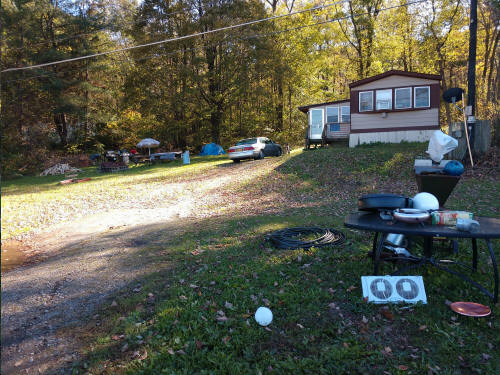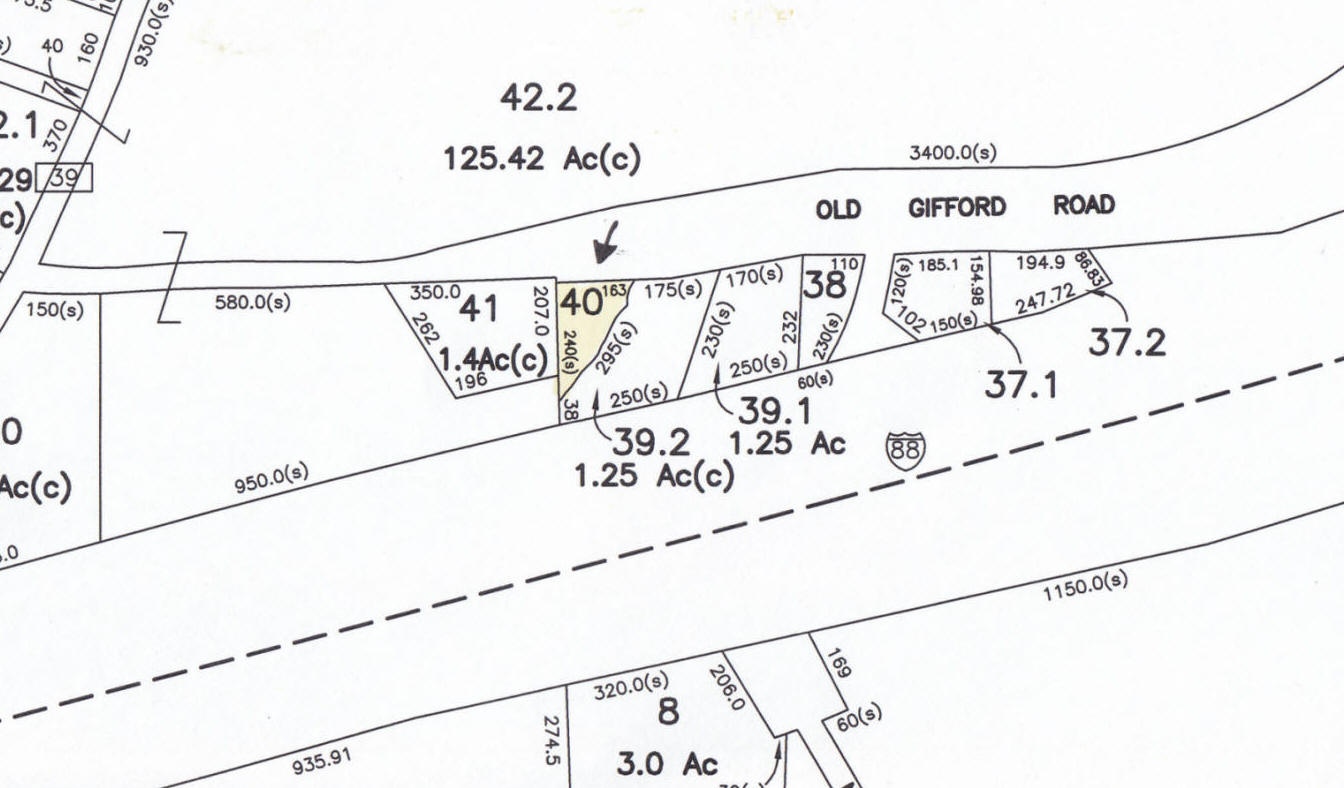 Parcel #4 – Susq. River Landing, Vacant Lot, Town of Afton, Tax Map# 289.15-1-29, 2 Acres - behind McDowell and Walker. Sunday, October 28, 2018, 12Noon-1PM;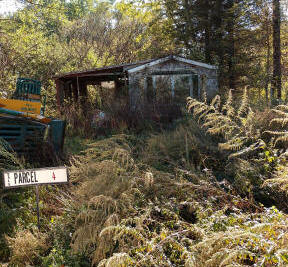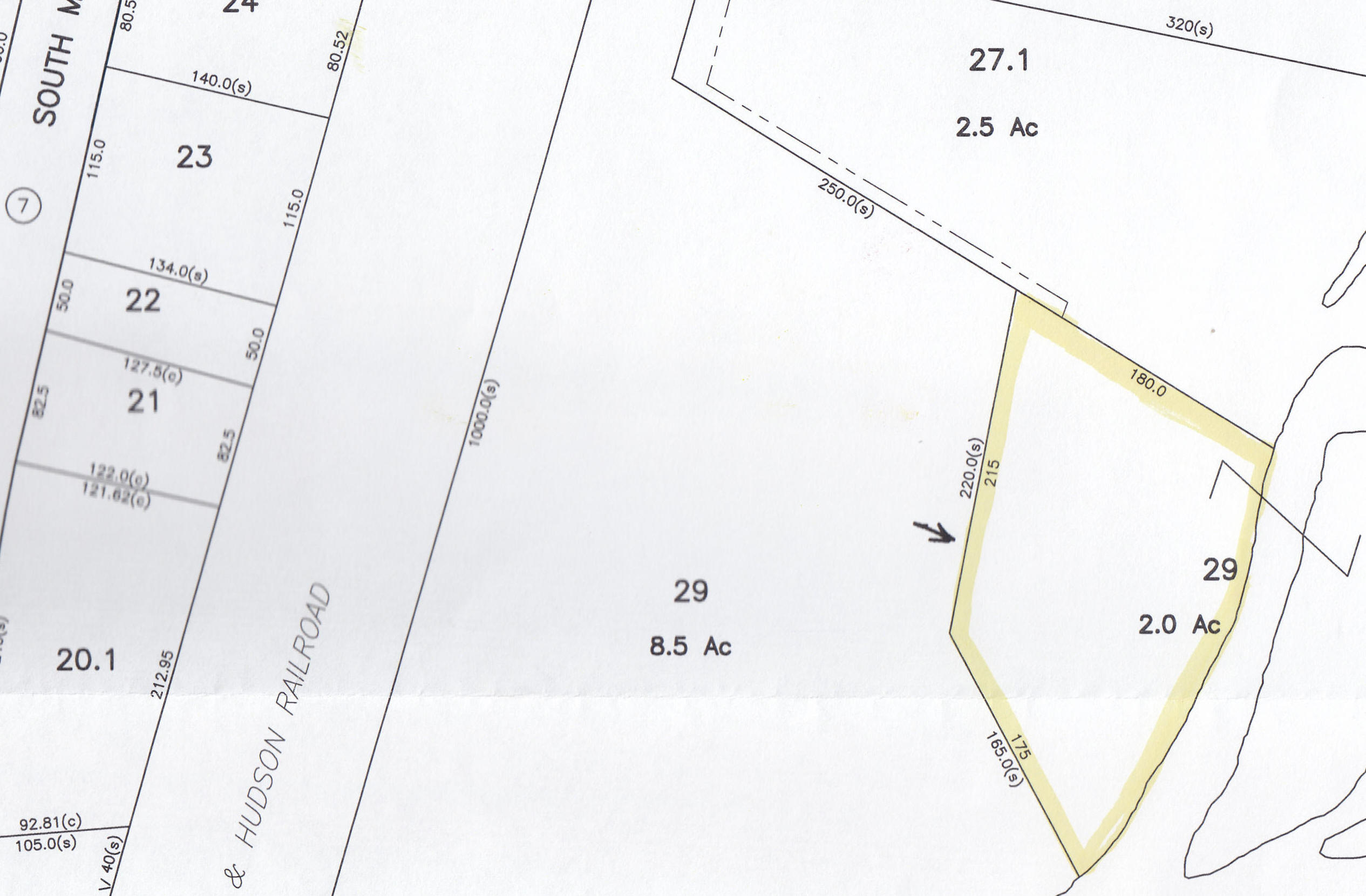 Parcel #5 – 278 Goodnough Road, Lg. 2 Sty Sgl Family home on 11 Acre Lot, Rented, Town of Afton, Tax Map# 283-1-16.1, 11.86 Acres. Rent: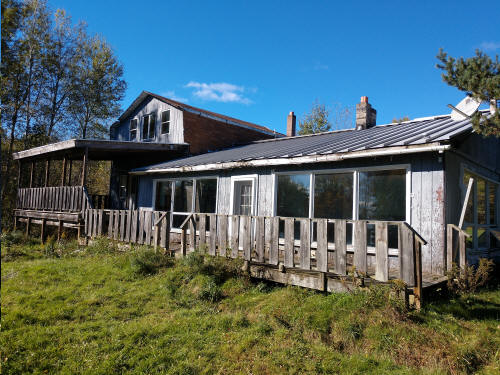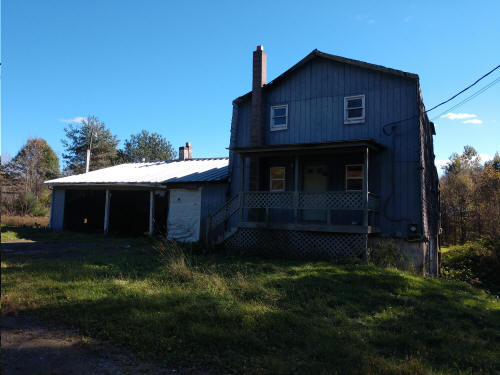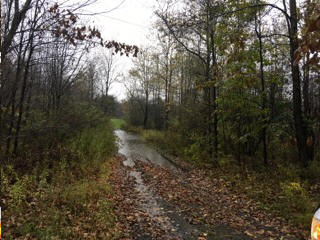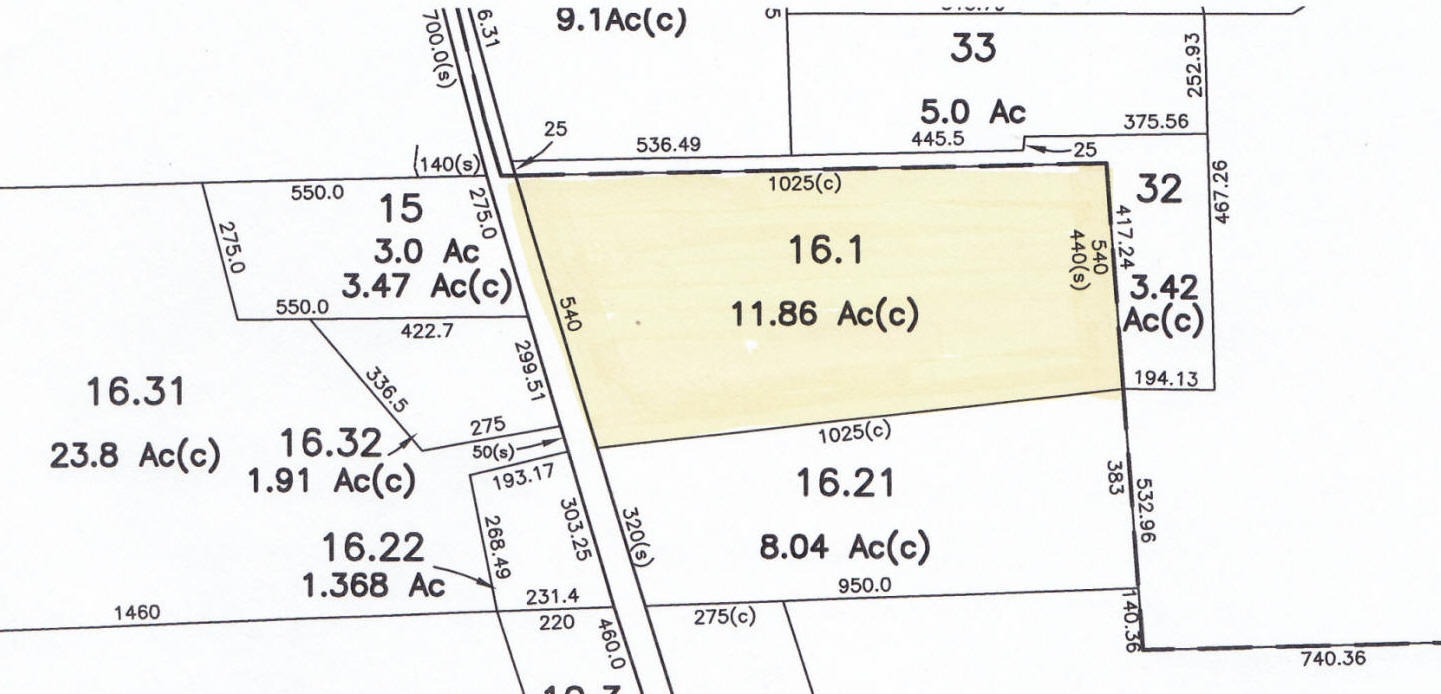 Parcel #6 – Afton, NY - 102 Kirby Lane (Rt. 7), Town of Bainbridge, Tax Map #: 285-4-12.4, 150FF x 200Ft Lot, .71 Acres, Lot with Utilites with 2 Mobile Homes on Presently, Gray Mobile Home in Front Will Be Moved off Property Before Closing. Brown Mobile Home in Rear Belongs to Tenant and is Paying $275 Per Month Lot Rent.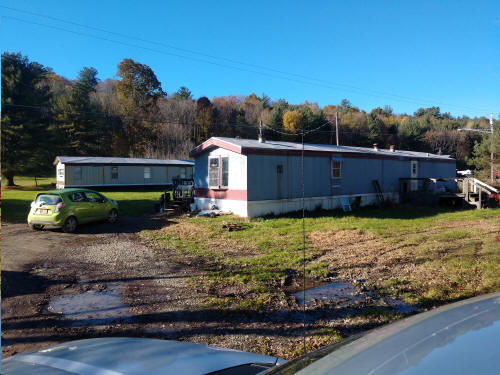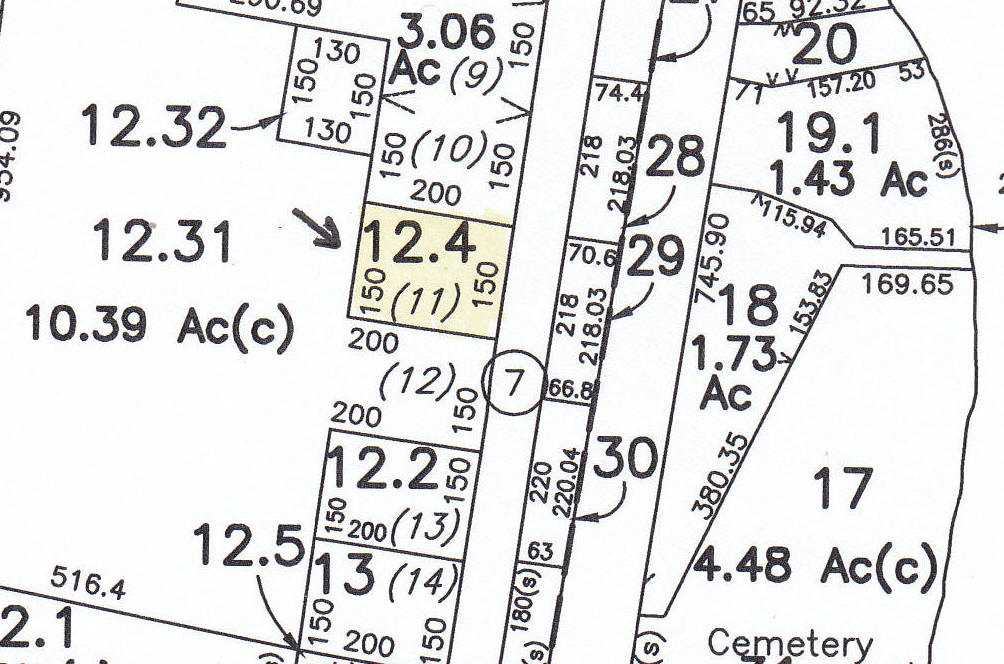 Parcel #7 – Afton, NY- State Highway 7 Rear, Town of Afton, Tax Map #: 285-1-12.7, 2.52 Acres; Selling Together With State Highway 7 Front, Mobile Home on Lot, Town of Afton, Tax Map# 285-1-12.6, 80FF, 2.6 Acres Total - Properties Selling Together, No Homes on These Parcels, Large Parcel Has Older Utilities;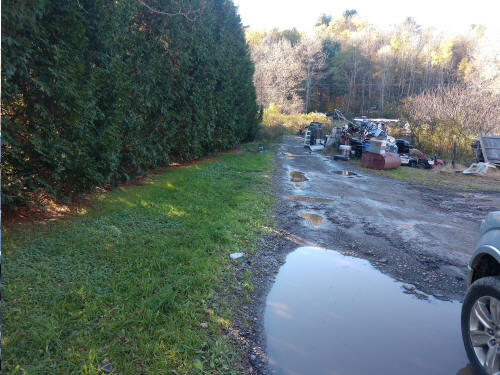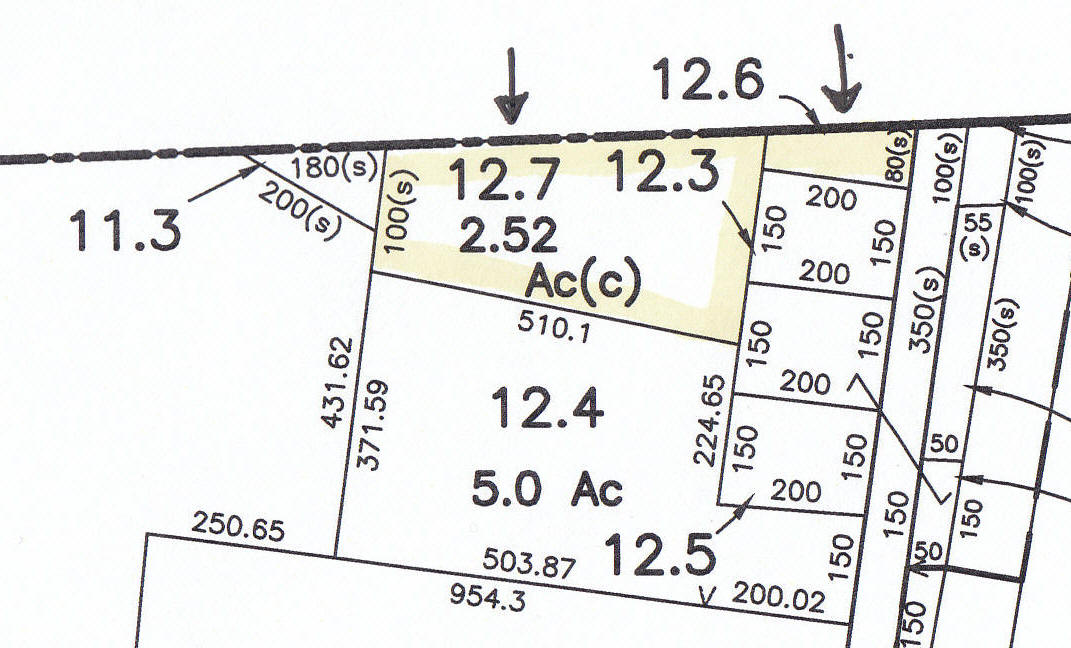 Parcel #8 – 1865 Route 41, Vac. and Wooded, Broome County, 8 Acres, Tax Map# 120.00-1-32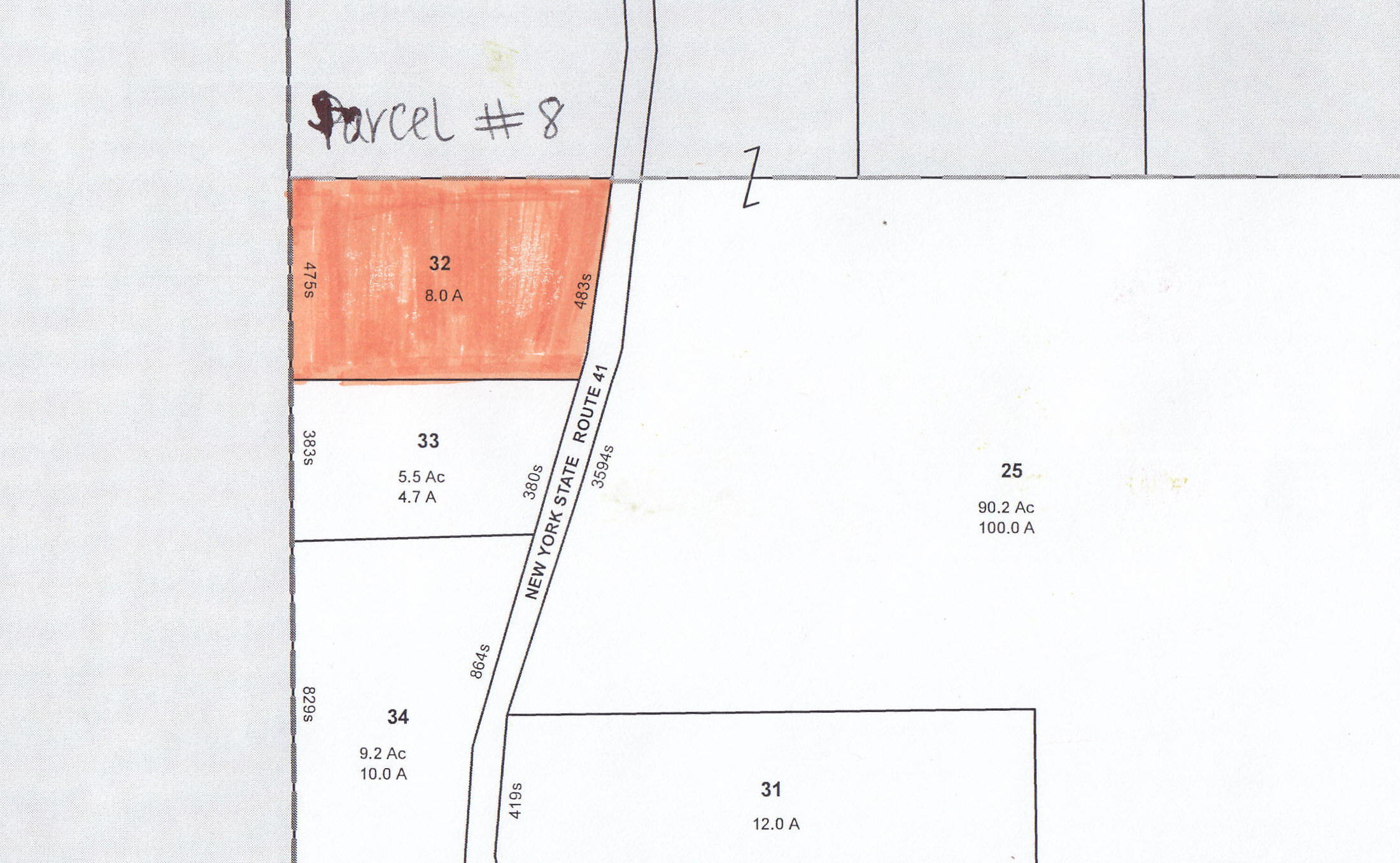 Parcel #9 – 838 E Windsor Road, Town of Windsor, Tax Map# 151.02-1-10, 65 x 200FF-
Mobile Home on Lot.
834 E Windsor Road, Town of Windsor, Tax Map# 151.02-1-9, .19 Acres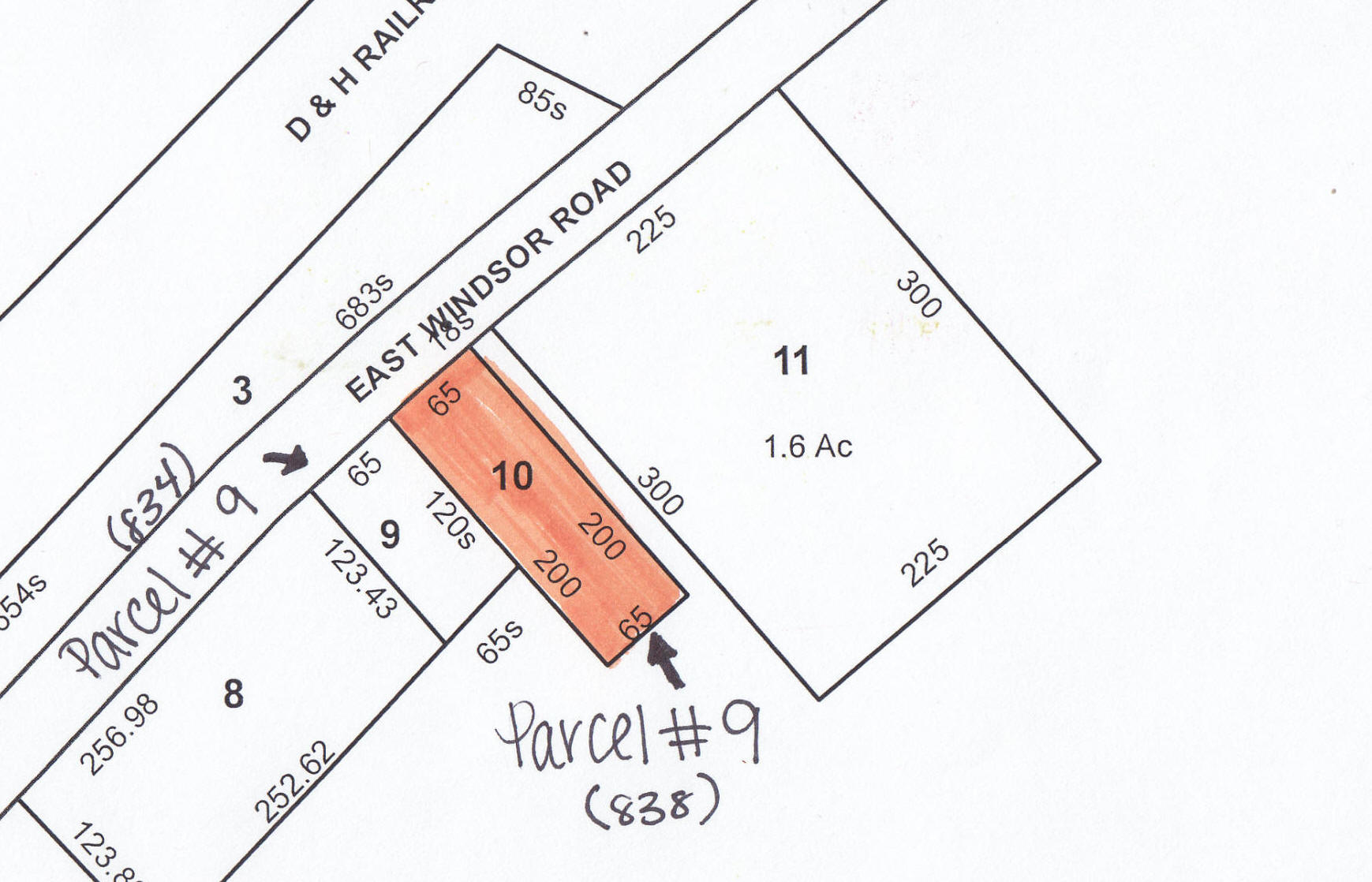 Parcel #10 – 386 Williams Road, Mobile Home on Lot, Town of Windsor, Tax Map# 197.00-2-1, .37 Acres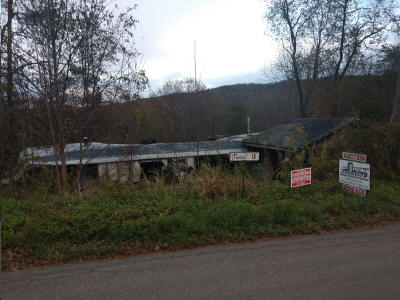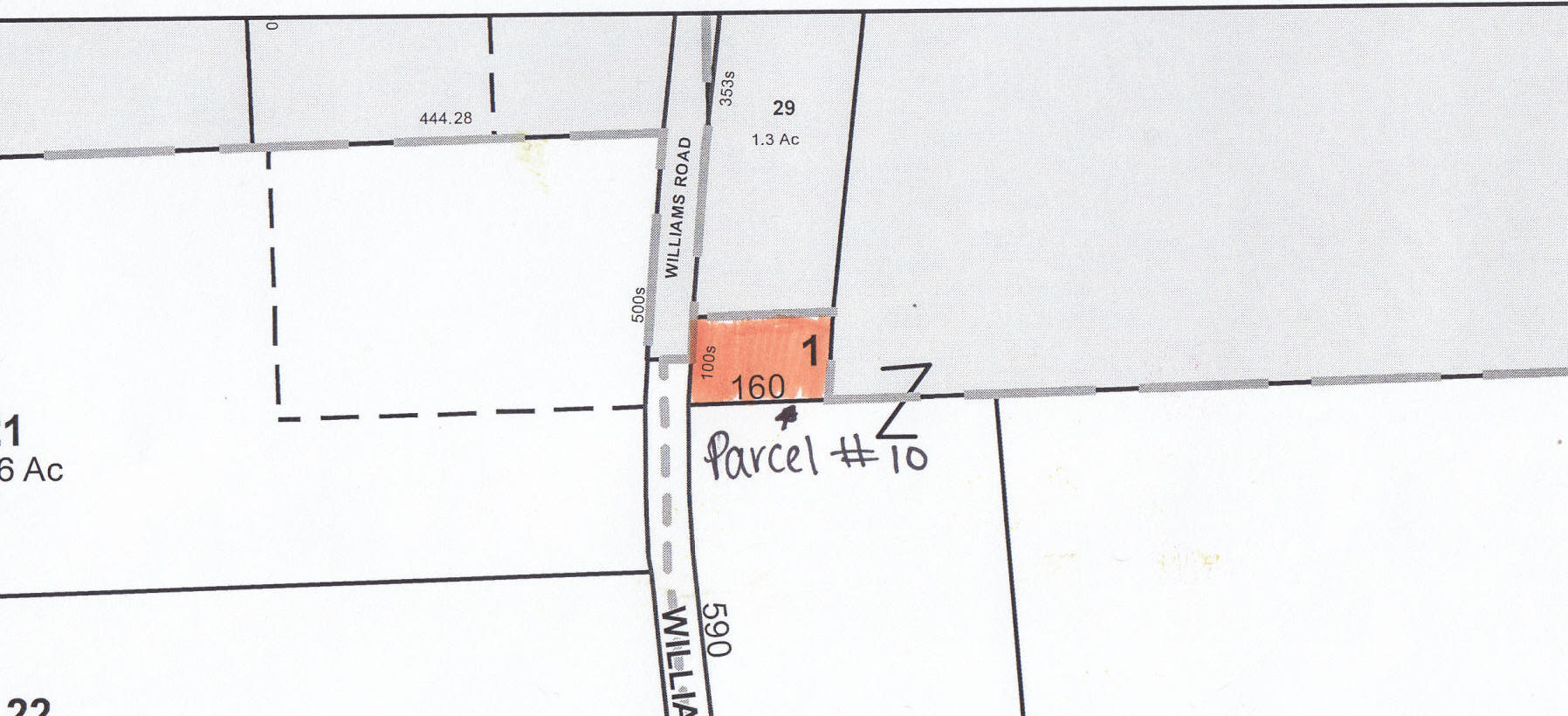 Parcel #11 – 153 Riley Road, 3 Bedroom Double Wide Home on 5 Acre Lot, Currently Rented, Town of Windsor, Tax Map# 147.04-1-25, 5.35 Acres.
Rent: $725.00, Renter Pays Own Utilities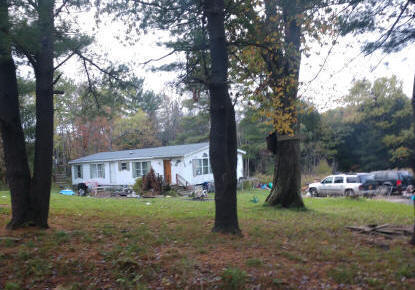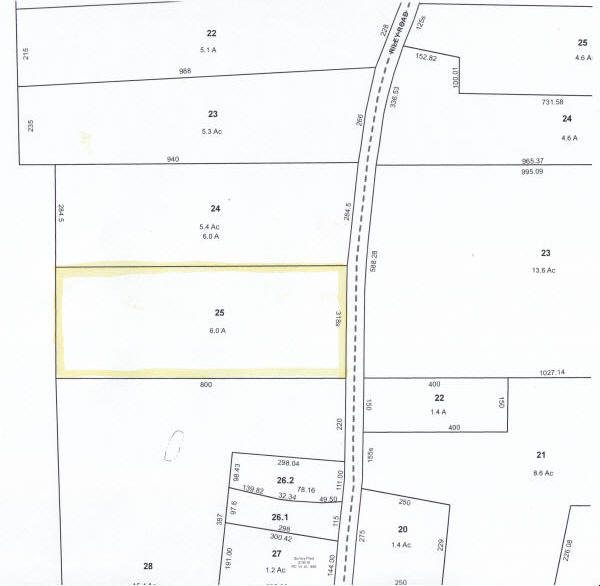 Parcel #12 – 65 Gehr Road, Old Mobile Home on Lot w/ Utilities, Town of Colesville, Tax Map# 083.13-1-20, .71 Acres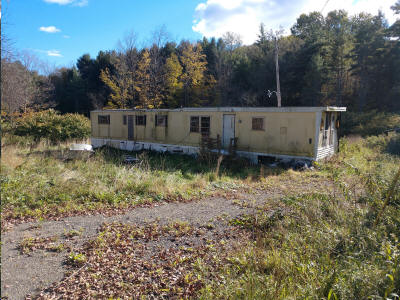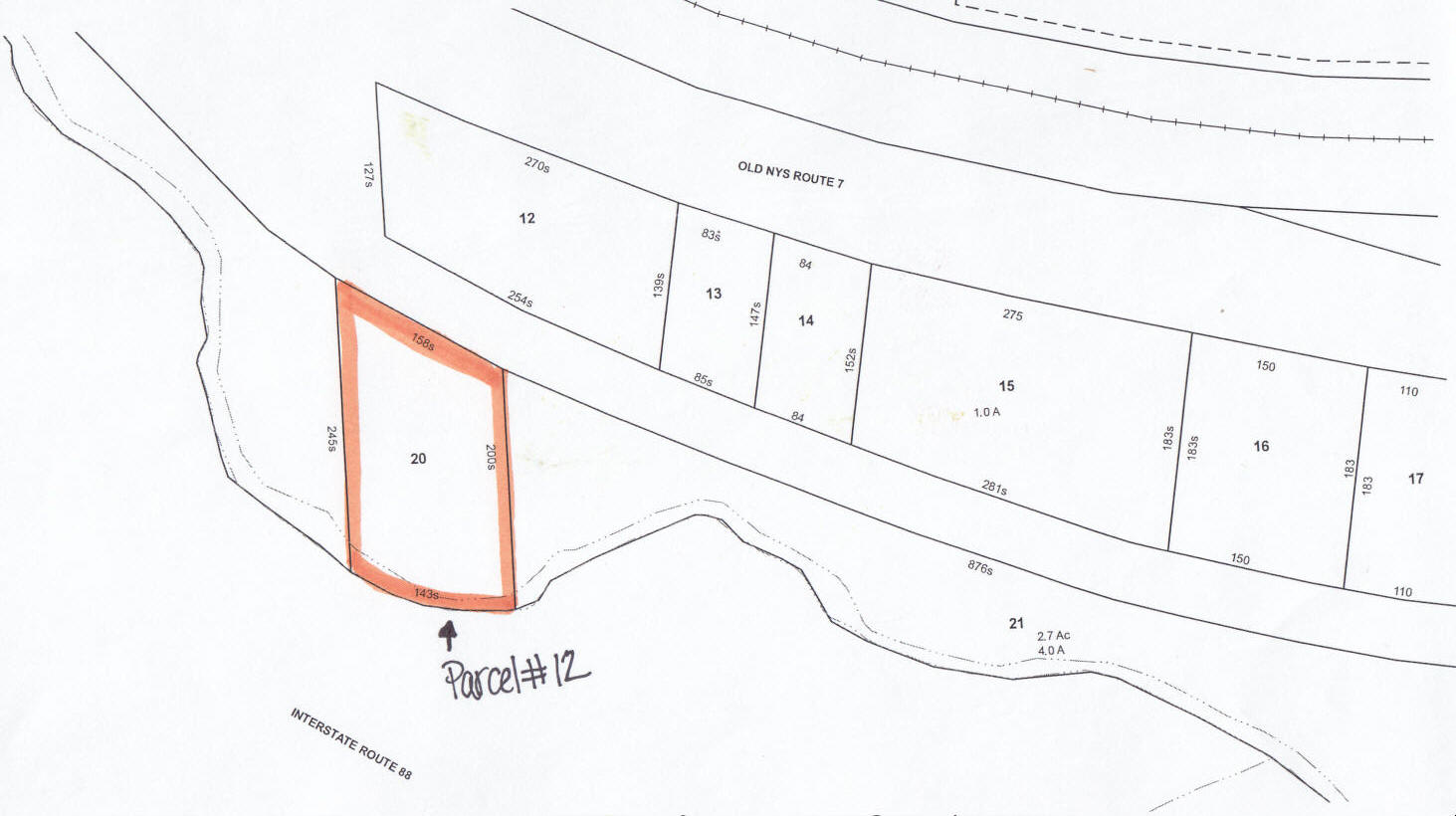 Parcel #13 – 313 South Street, 5.98 Acre Vacant Lot, Town of Barker, Tax Map# 043.00-1-3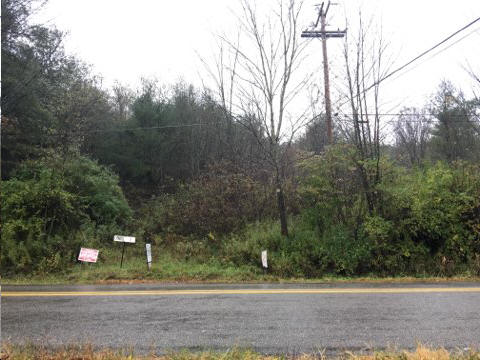 Parcel #14 – 997 Dunham Hill Road, Town of Barker, Tax Map# 054.03-1-16, 1.05 Acres, w/ Utilities, Mobile Home Belongs to Tenant, Selling Land Only.
Mobile Home Belongs To Tenant, Selling Land Only;
LOT RENT: $275.00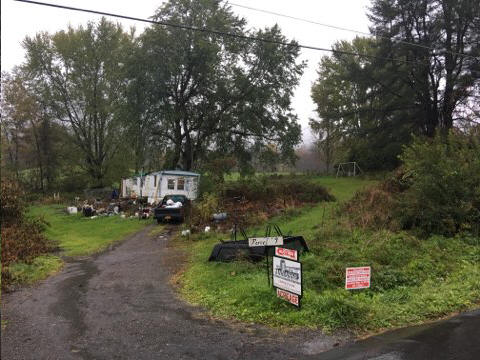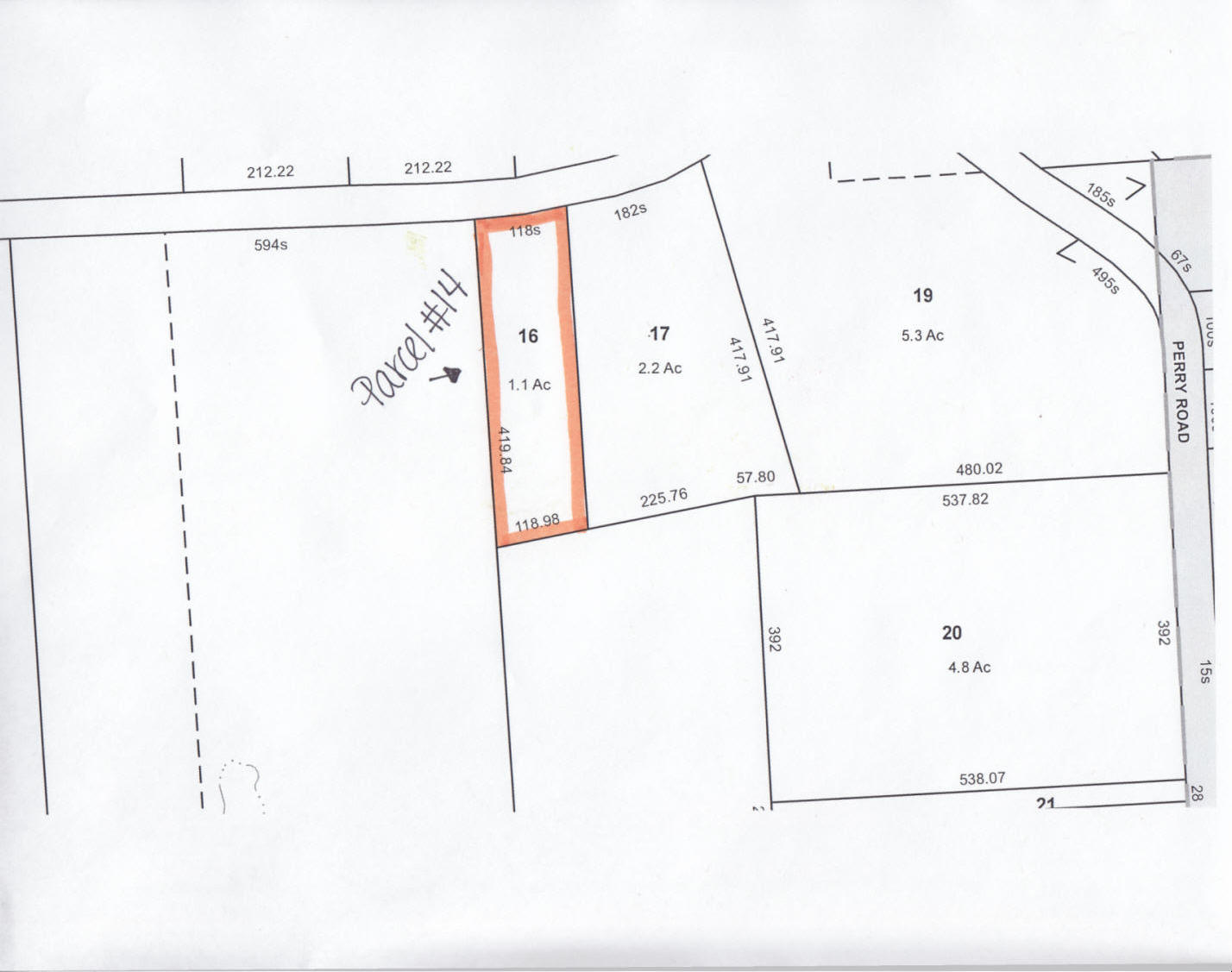 Parcel #16 – 321 Pierce Hill, 2-Sty Sgl. Fam. Home, 3-4 bedroom, In Great Location, Currently Rented, Town of Vestal, Tax Map# 173.08-1-10, 1.04 Acres.
RENT: $1200.00, Renter Pays Own Utilities;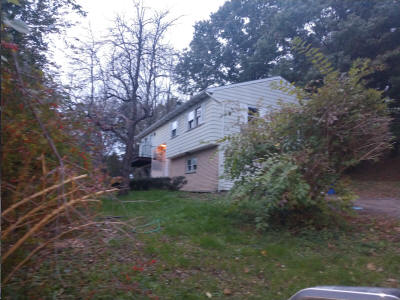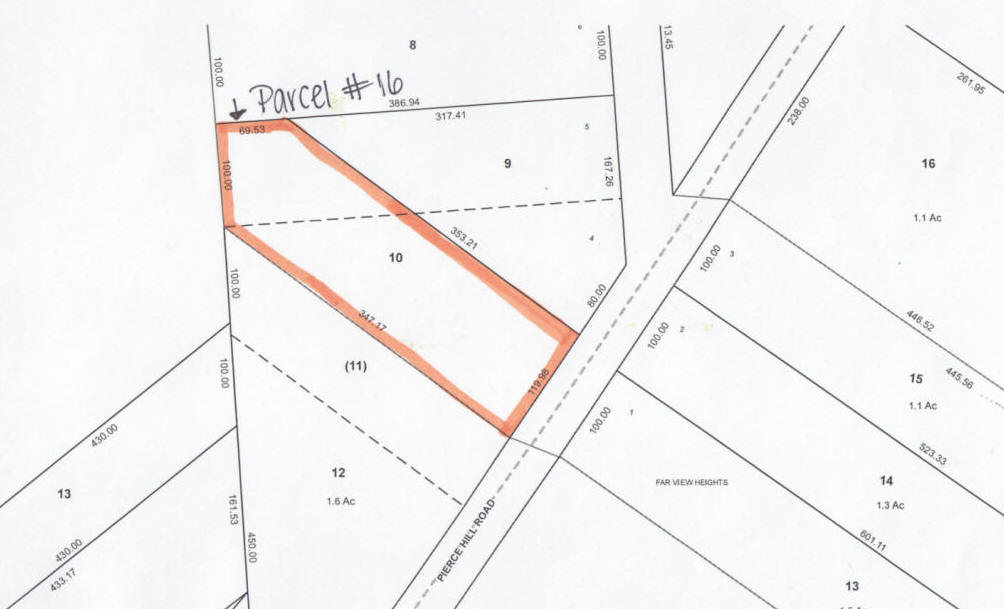 Parcel #17 – 2292-2324 Park Settlement Road, Town of Owego, Tax Map# 85.00-1-3.122, 2-Sty Sgl. Fam. Home, Sgl. Wide Mobile Home and Lg. Barn, Currently Rented. 4.54 Acre Lot.
RENT: 2-Family $600.00 / Trailer $400.00 – Renter Pays Own Utilities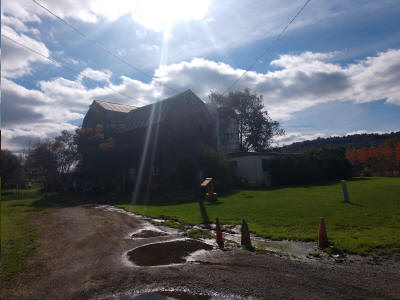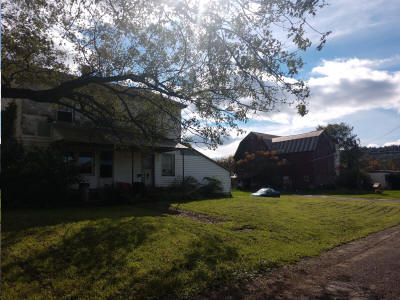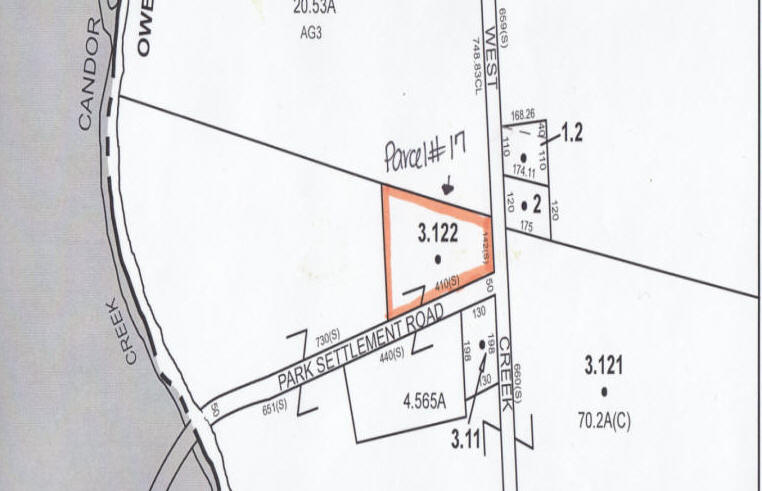 Parcel #18 – 436 Anderson Hill - Ranch style , 3BR, Single Family Home in Good Location, Currently Rented , Town of Candor - Close to Owego Just Off Rt. 96, Tax Map# 84.00-1-32,
150 x 252 Lot.
RENT: $650.00, Renter Pays Own Utilities;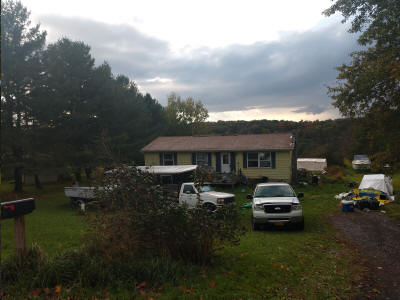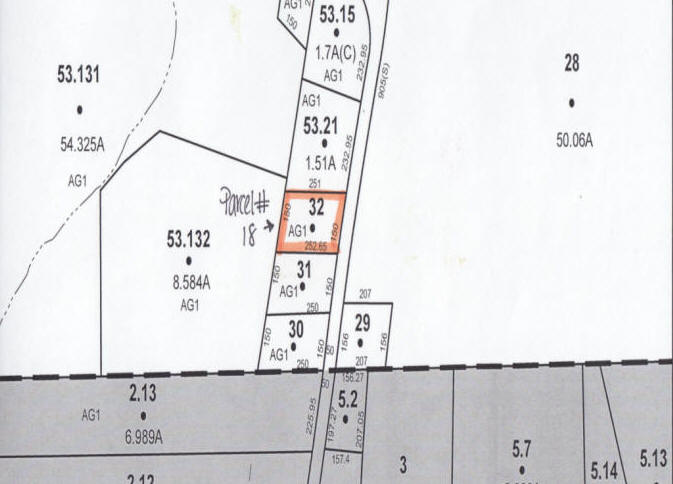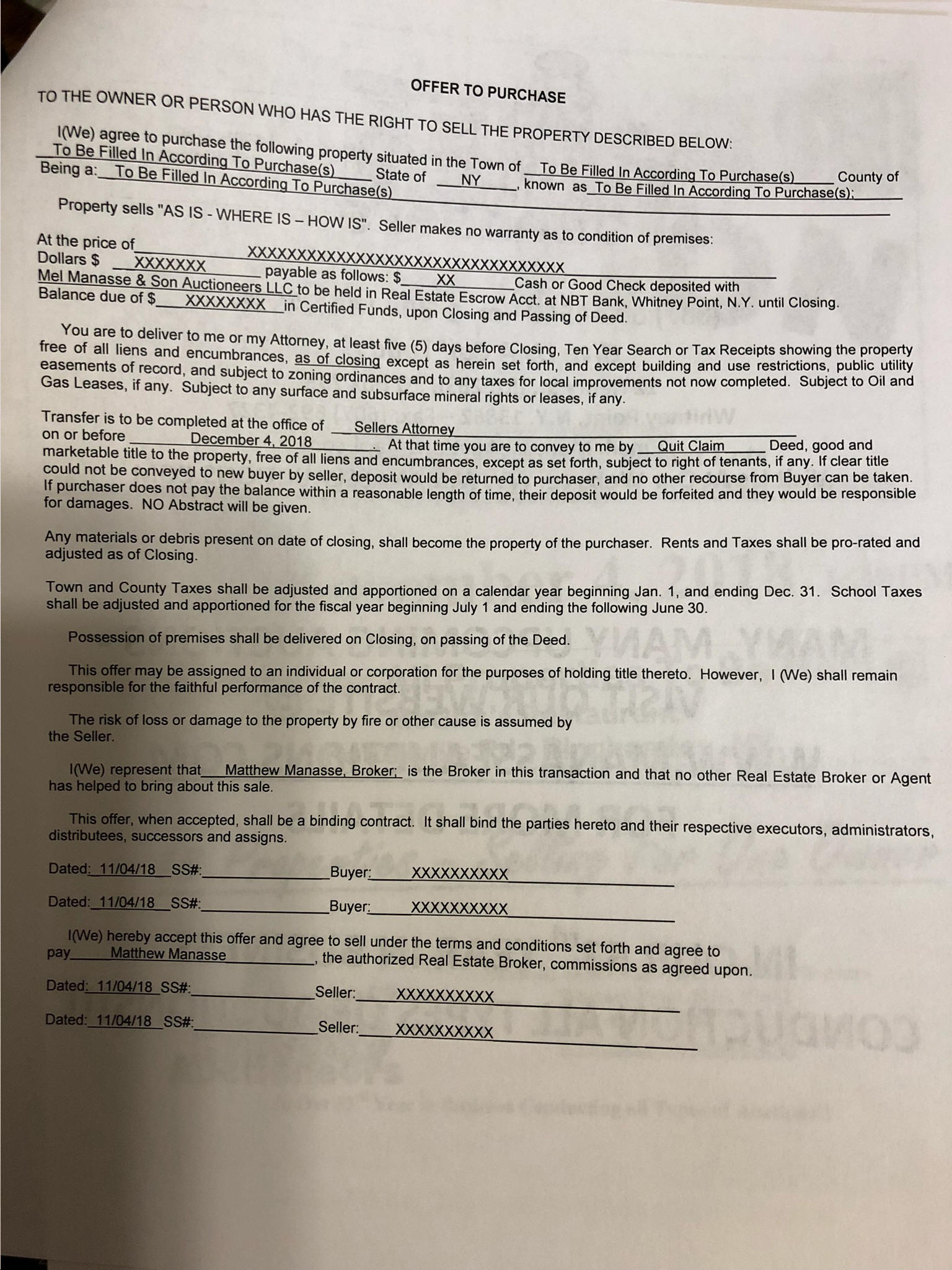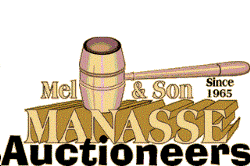 Auctioneers & Licensed Real Estate Brokers
Licensed Real Estate Brokers In NY & PA
Whitney Point, NY
(607) 692-4540 / 1-800-MANASSE
WWW.MANASSEAUCTIONS.COM